Strenuous activity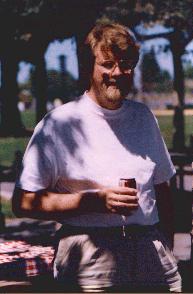 at last summer's Company Picnic. Someone found my hat.
---
You can find out way too much about me from my hotlist, my photo albums, my rants, and from my sporadic blog.

I have recovered from a very mild case of this.

Send me mail already.

See the Qualified Nouns!

I'm finally writing these down!

And these!

Read the Software Follies!

Meet my doppelgangers!

Meet some friends!

Webcomics I like to read.

I guess I have a calculator collection now.

My GPS thinks I rode an SR-71.
---
Metamedia
Is it me or is it just amazing that radio and TV shows are getting their own domains, as below?
Art Bell
CarTalk
C|Net
Discovery Channel
NextStep
Red Green
Toy Story
My Brain Hurts
Something I have not thought about in 30 years

people
No Relation
Review of Woolsey's 'How to Play Tournament Backgammon'
Report on MultiComm 94 - by Lucinda Atwood
Action during the War of 1812
Department of Neurology - Neurodevelopment
MARKETLYNX WELCOME
Virtual Trading Post
Woolsey Teller
Stitches in Action: Lindsey Woolsey
Linsey-Woolsey
OFSG people: G. Woolsey
Libertarianism
Judge Woolsey's decision

Maybe Relation
Guy Wayne WOOLSEY - Viola May WRIGHT

All Relation
My Dad volunteered here and now here.
A quote.

places
things
The ultimate waste of time for Netscape victims.